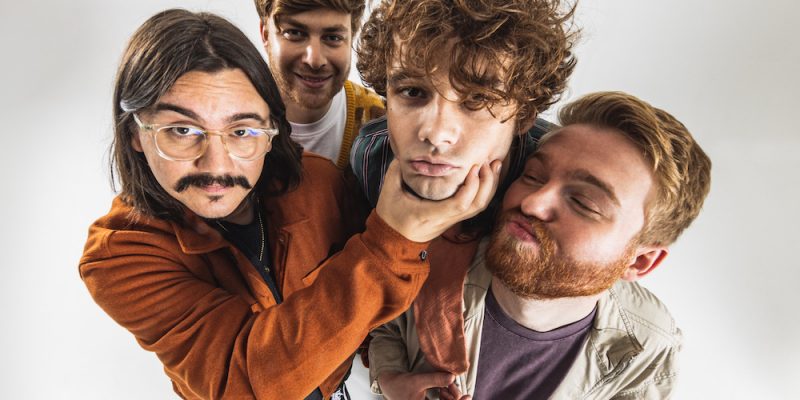 Lovejoy release track and video of 'Call Me What You Like'
Gaming/streaming/musicians Lovejoy return with a brand new single taken from their upcoming album. 'Call Me What You Like' sees the indie-rock four piece releasing their most interesting track to date and the one that offers them the biggest chance so far of finding a wider, more mainstream audience.
Alongside 'Call Me What You Like' Lovejoy also release the video; directed by bass guitarist Ash Kabosu, the video hones in on frontman Will Gold as he travels on a plane, obsessing over his current love interest while oblivious to the unfortunate events unfolding around him. The punchy song features lyrics about a confusing relationship, with Will eventually acknowledging "I'm not paranoid, I'm a realist/I know you're gonna kill me" in the song's hook.
On the story behind 'Call Me What You Like', he says: "It's about the phase in any kind of relationship that isn't a relationship yet, where you're not sure of the 'what are we?' That idea that you want it to be more than just a fling but you're struggling with the commitment."
In addition to the single the band are set to embark on an already sold out UK tour taking in the following dates:
24 March – Newcastle University, Newcastle, UK
25 March – SWG3, Glasgow, UK
27 March – O2 Institute, Birmingham, UK
28 March – Electric Brixton, London, UK
29 March – O2 Ritz, Manchester, UK
31 March – SWX, Bristol, UK
9 July – TRNSMT Festival, Glasgow, UK
23 & 24 August – Reading and Leeds Festival, UK
You can follow Lovejoy over on Instagram and check out their full back catalogue over on Spotify…
Lead photo credit: Dan Pearce