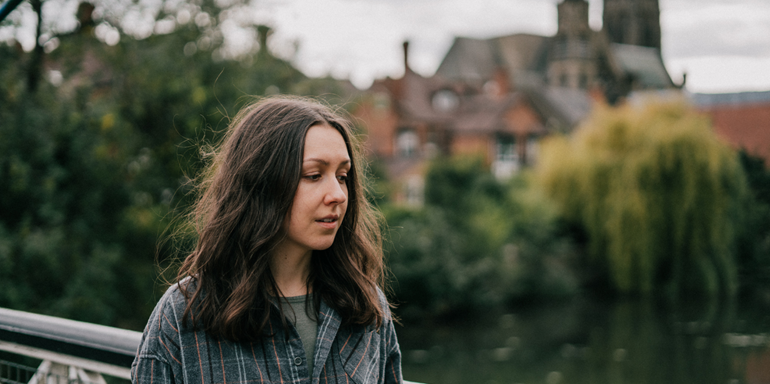 Introducing… Natalie Holmes
Bristol-born Natalie Holmes is the latest singer/songwriter to come onto our radar. Her second EP Child impressed us and so we decided to find out a little more about her and her music.
Introduce yourself to the TuneFountain readers…
Hello! My name's Natalie and I'm a singer/songwriter from Bristol, studying in Leeds. I'm self-managed and doing everything I can to build my career as a musician whilst at uni. I've been playing piano and singing since I was a kid, and started teaching myself guitar about five years ago.
You've just released your latest EP. What's next?
At the moment I'm just concentrating on writing and getting gigs. I don't have a booking agent yet so that's the next step really, as I'd really like to play more festivals next year too! Gotta keep writing 'cos you can only get better with practice. Gotta plan for EP #3 now!Do you have an earliest musical memory? Was there a record or act that made you think 'I want to do this!'
Not particularly! I've always known that music was all I was going to do with my life – it had to be! The point when I started to really believe it could be possible was when I started uploading YouTube videos, then it all started bouncing off that. A friend heard me singing and playing at a house party when we were jamming, and persuaded me to upload something. Don't know where I'd be now if I hadn't listened… There isn't really a particular artist that inspired me to take music so seriously, but seeing any musician doing the same thing as me and succeeding and it just inspires me further.
If we were to look at your MP3 player, is there anything on there you'd rather we didn't see? Do you have your own stuff on there?
[Laughs] Um, yes! I may have some Alvin & The Chipmunks on there?! Don't ask [laughs]. Other than that there's the guilty pleasures like JoJo, Ne-Yo, but I'd never be ashamed of them! They make me feel so happy when I listen to them, nostalgia 'n all that I guess.
I do have my own stuff on there, and I occasionally listen to it, sometimes for educational purposes like giving myself constructive criticism, and other times because I'm just really proud of some of my songs and it makes me happy to hear my hard work made into something tangible.Is there any style of music you just don't get?
It would have to be heavy metal. I hate screaming! I've learnt to put up with it as I had a flatmate a couple of years ago that listened to it all the time, and I don't mind the instrumental side of it, or when it's put in tastefully with other genres. But I just don't really enjoy the sound of screaming I guess. I much prefer melodies and meaningful lyrics that you can actually hear. I'd like to learn to appreciate it though, as it's still music to a lot of people's ears!
What's the question we should have asked you today?
Would you like some cake?