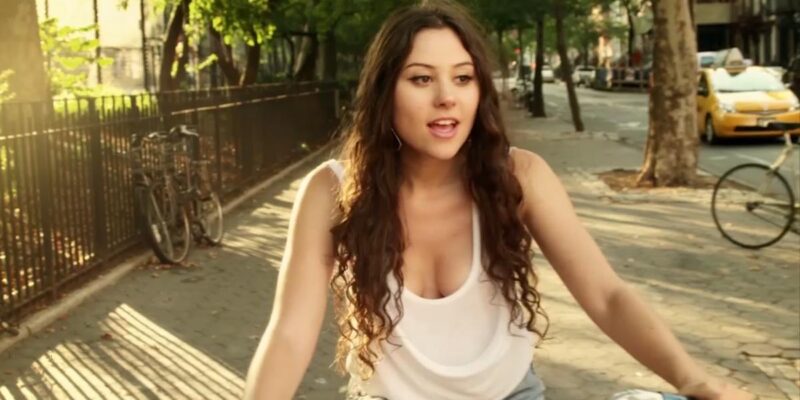 Eliza Doolittle: The TuneFoutain Interview
Her debut album has sold over 180,000 copies to date and her music has been on constant repeat on radio station playlists all over the country. She's also just kicked off a major world tour taking in dates across the UK, US and Australia, so we're very grateful that Eliza Doolittle managed to find the time to take a break to chat with TuneFountain about her new single ('Rollerblades'), her album and her plans for the next few months…
You wanted to be a musician from a very young age. What advice would you give to any kids who have the same aspirations as you?
I would say if you haven't started writing, start now – and keep it up. I think that was a big thing for me to be involved in the music I make. Practice writing from a young age. I think if I started writing now I wouldn't be any good at it because if I wrote songs now that I wrote then, that would be bad!
Once you've got a few songs under your belt, start gigging, start getting out there 'cos if people like what they hear maybe they'll jump on board with a project whether it's managers or whatever; things you may or may not need, but I feel like it's certainly helped me. Just get out there and show your music to the world!
Are all your songs relevant to you? Do they stem from your own life experiences?
Yeah, they're definitely my perspective on the world and the things I see; they're my own experiences, but not necessarily things that have happened directly to me. It might be an observation on something I've seen; say if someone else has gone through something and it's something I can use. Anything I have a view on – I write about so many different things!
'Rollerblades' is your newest single, how did that come about?
When I was on the tube on the way to the studio there was a guy who started having a go at everybody, including me – telling me I didn't care about anything other than what hairstyle I had and stuff like that. I got kind of mad inside, I was like 'You don't know anything about me! I care about way more stuff than you think – I have lots of things that I care about and worry about'. I went to the studio and I wrote the song with Craigie (Dodds) and Johnny (Sharp) – that was the first time I met them and we chatting for about five hours and it stemmed from that. It's kind of about people who don't know what they want and they take it out on the people around them. It's about how we all go through that a little bit sometimes – everyone is in the same boat and don't have a go at everybody just to make yourself feel better. Be happy and just sort of roll on together!
On the subject of being happy, a lot of your music is very upbeat. Is this something you intentionally try to do?
Yeah, I try and have a positive conclusion to all the problems that I see and I notice. I am human as well – I can be grumpy some days but I do try and have that philosophy. As much as I say it in a song, I am also trying to tell myself that as well.
It's clear that you have many influences with hints creeping in across all of your music. Who or what would you say are the most important influences on you and your music?
To be honest with you – I don't have anything particular that I would say is my biggest influence, but maybe from a young age watching music channels; I used to watch 'The Box' all weekend requesting music videos and my mum would scream at me because of the phone bill! As I grew up I was listening to music all the time and wanted to become some of my favourite artists and singers. I don't think I have one in particular, I like to think that they've all influenced me and their best qualities have gone into my brain!
If you were to pick one of the tracks on your debut album, which would you say is the most relevant to you?
I know everyone says this, but when I was choosing songs for the record there was probably about 25 songs – I wrote even more than that – but there were 25 that I really loved and to pick just 13 of them was really difficult for me. The ones I picked are the ones I really, really, really loved; but there are two songs that stand out to me the most because the mean certain things – 'Rollerblades' was the first track that I wrote where I really found my own sound and felt like it was something I hadn't heard before; I based the whole album on that sound. Then there's 'So High' which is the oldest song on the album – I wrote that like four or five years ago with James Napier who was my best friend's older brother; he was the first guy I ever wrote songs with. There are tons on there that have little stories behind them and I wouldn't feel right just picking one.
You're back on tour now – do you enjoy performing live or spending time in the studio?
Do you know what? I really love both – when I'm performing live, I'm like 'This is the best feeling ever! Nothing tops this!' It's like the most amazing adrenaline rush feeling – but when I'm in the studio and have just finished the song I have the same thoughts; it's amazing to have the fulfillment and have something I've created. They're both great feelings! Also, when I'm live I kind of miss being in the studio and it's the same the other way around too.
As a relatively new name, what do you feel is the best and worst thing about being in the public eye?
I was talking about that with my friend yesterday! It's all so new to me, so I don't know really how much I've experienced. Some things are a bit crap – the press are really mean sometimes – there is a LOT of negativity. I'm more for putting my music first but as a solo artist, I understand that unless I'm going to do the Gorillaz thing and have projectors, I'm going to be recognised as a person as well so that part of it is something that comes second to me as I know there are crappy things that come with being famous. I'm so new to it, but I am very aware of how bad it can be where people hate you on internet sites and blogs saying really mean things and the press printing bad stories about you. But, I'm also how good it can be as well – like getting free stuff which can be fun! You just have to have a thick skin I suppose.
Post tour, what's next for Eliza Doolittle?
Well, during the tour I'm going to LA and Australia to try and introduce my music to those countries and then when I get back I've got a few more dates in the UK and then I have Christmas off; which I'm super excited about! The music industry kind of dies down over Christmas so they've given me the time off which'll be nice! After Christmas I have more live shows and off around the world spreading the word more!
'Rollerblades' is out on 17th October and can be pre-ordered from iTunes along with the track 'Doo Little' and the video below