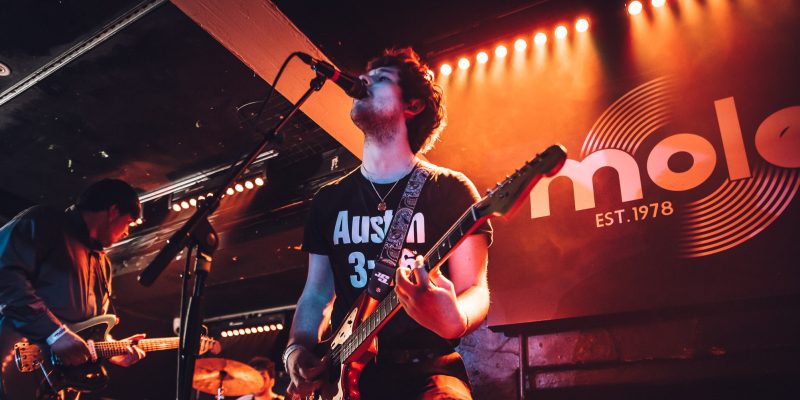 The first ever MolesFest was a triumph of creativity, community and the cross sections of good music
MolesFest was a hit; atmosphere buzzing, and sunny in spite of the grey weather. It felt like a true celebration of the local music scene and its genre diversity, with an audience that were supportive and fully hooked on every act, rock and folk alike.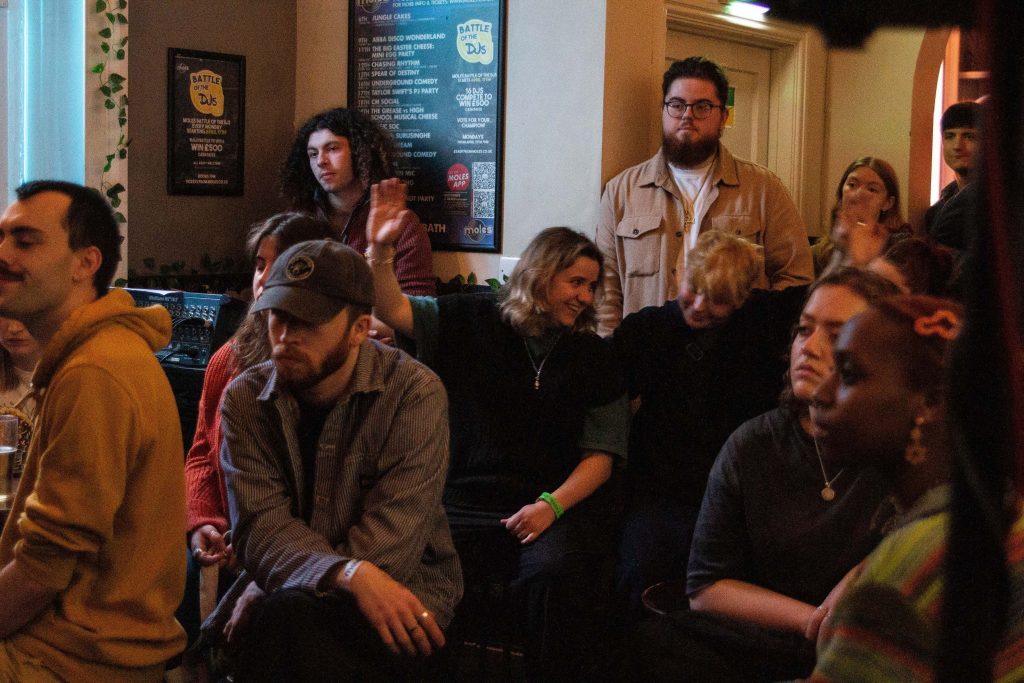 Put on by organisational force Bobby Crowhurst at promotion company Ease Events, and the ever-talented team at Moles in Bath, the first ever 'MolesFest' was comprised of 14 acts, 7 hours, 2 stages and many, many drinks. 
The acoustic stage upstairs was dressed in typical Ease Events fashion, draped in subtle blue fabrics and delicate chiffon, expertly creating a soft, intimate vibe from Moles' usual bold black paint and brickwork. Local artist Amu was on the easel, and getting to watch her capture the space in her beautiful, gentle style was a captivating addition to the soundscape.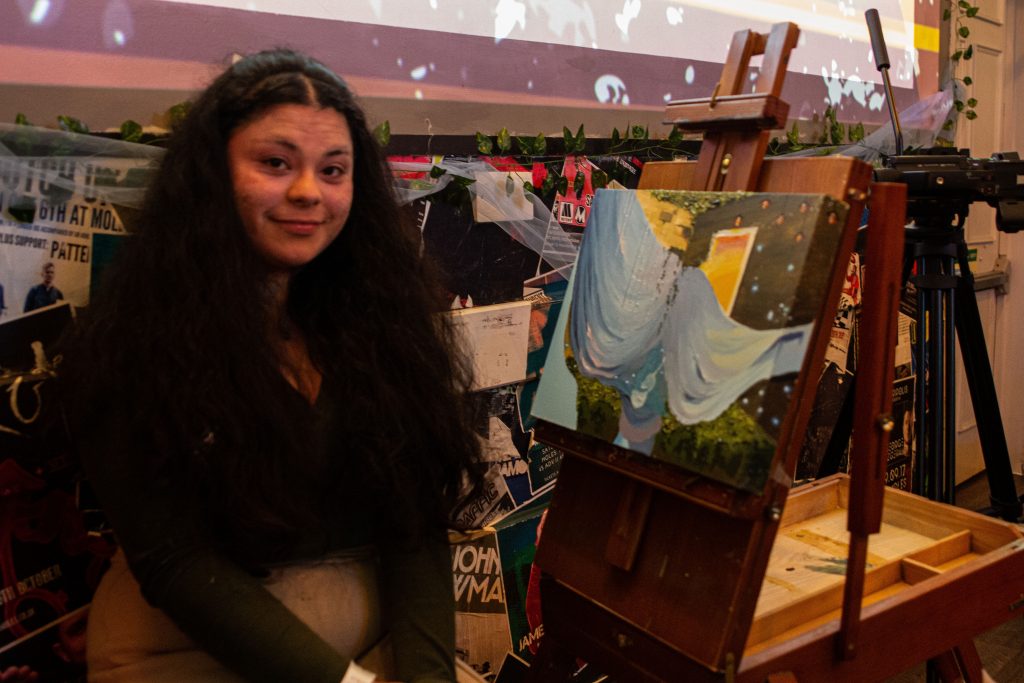 The line-up was jam-packed, with the well-loved and iconic downstairs mainstage boasting funk fanatics Badlands, Bristol's very own female fronted force NO:IR, and topped off the bill with the charismatic, feverish output that is gaws.
There truly wasn't an act on the line-up that disappointed, but these are just the ones that really spoke to me.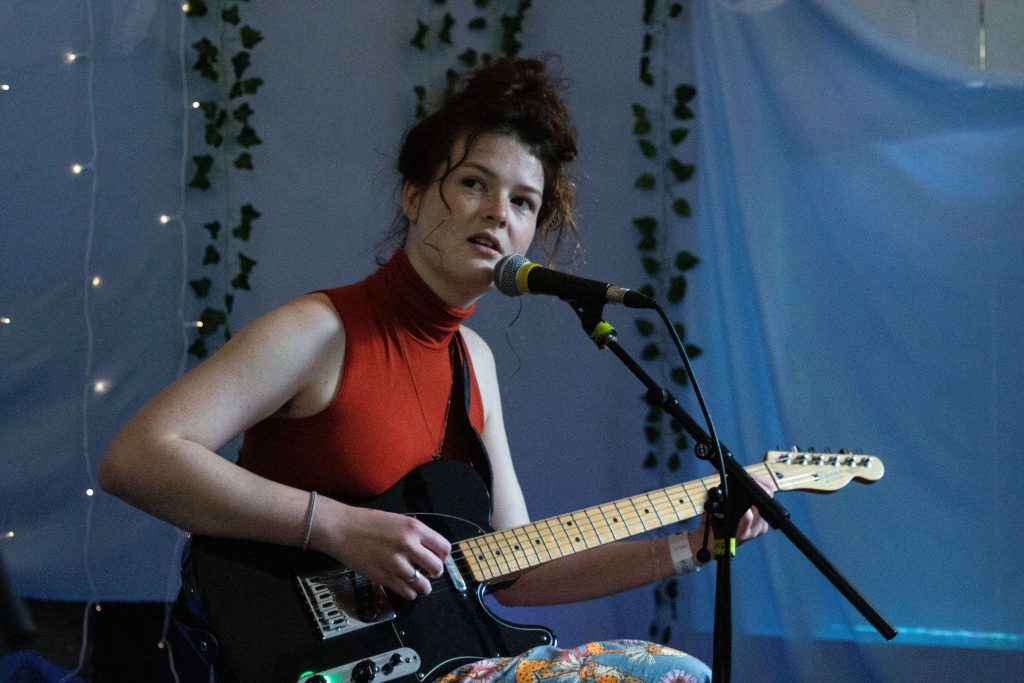 Starting strong with a self-accompanied performance from freshly Bristolian artist Pindy, the Ease Events stage was introduced with remarkable form. Electric guitar parts reminiscent of Hozier's intricate instrumentalism and vocals winding, these truly beautiful elements were joined by lyricism that cut right to the heart, spoken word and French sections joining with Pindy's mesmerising voice to create something I felt genuinely privileged to see.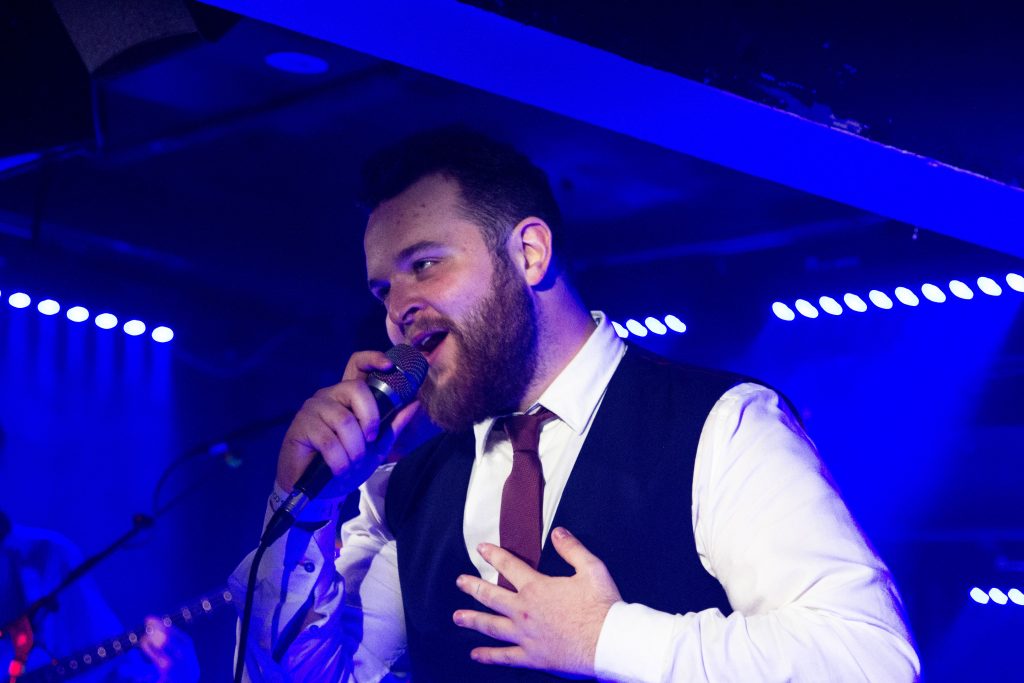 Next up was mainstage openers Badlands, a charismatic crew, dressed to the nines with catchy tunes to match – energy reverberating offstage and opening the night with undeniable stage presence and a great mix of suavity and genuine fun.
Double Bluff mixed the vocal tone of Morrissey with the animation of Elvis, and created something truly unique. The addition of the saxophone and the well-timed Black Midi cover made for a performance laced with musical references and individuality.
Lucy Marshall on the acoustic stage stunned, with classically good piano chops coupling her light, airy, ethereal voice in the tradition of Kate Bush. Joined with two other talented musicians, the arrangements were considered and interweaved naturally, elevating the songs and achieving a beautiful sense of completeness. With lyricism empowered and poetic, the track in celebration of female friendship felt particularly poignant, a performance grounded and confident in its grace.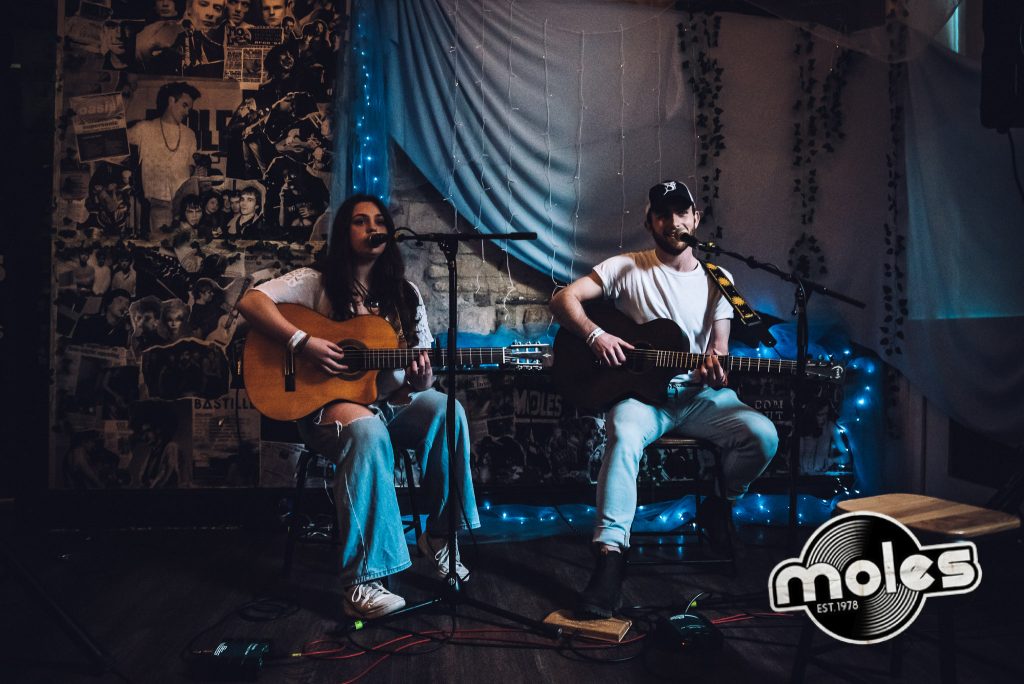 Hushwing are a romantic, classy acoustic offering whose chemistry is interwoven with their charm, finding soft, intimate ways to spin delicate love songs, avoiding cliché and creating a uniquely joyful output in the acoustic folksy scene. Voices blended with beautiful flow, and left a sweet atmosphere that rang throughout the room.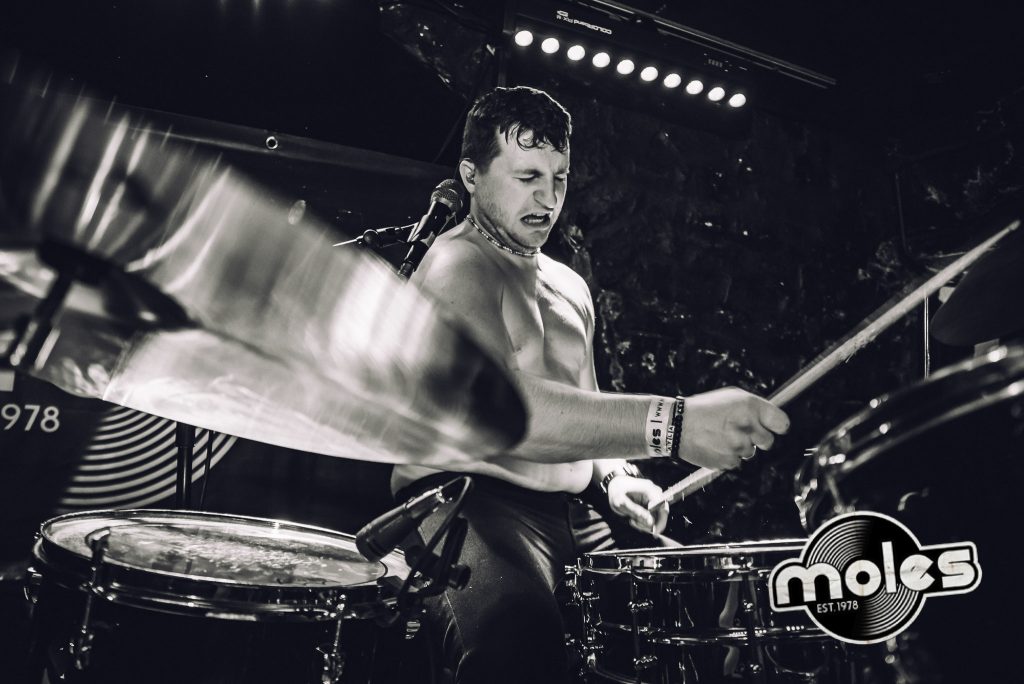 NO:IR on the mainstage was killer. With a heady, colossal performance that sent the audience to near feral level of excitement, the front woman had a command and presence that was a complete experience to witness. With powerful song writing and room-shaking ability, NO:IR were a true highlight.
gaws closed out the show – an adrenaline fuelled affair with an intoxicating energy, leaving the whole crowd carnally crazed and fizzing with headbanging stamina. The frontman Archie Jones oozes that unlearnable thing, a fervid spirit that is utterly infectious. It was one of the most engaged audiences I've ever witnessed at Moles, mosh pit raging in tameless force. A truly fitting end to a tremendous event.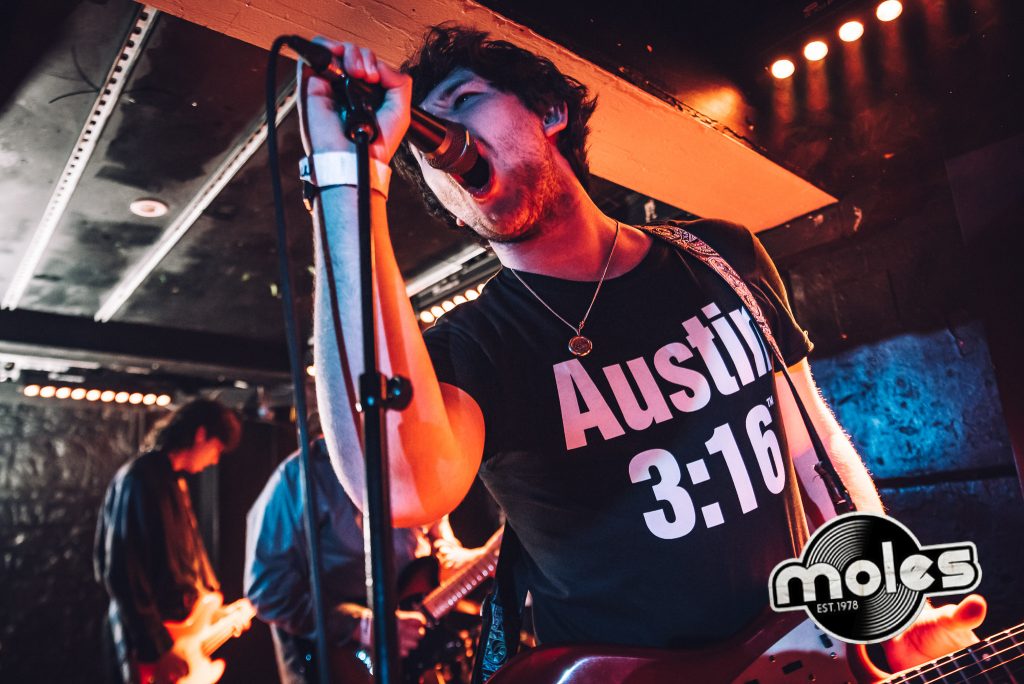 Photography by Zaczyk Douglas, Bobby Crowhurst and Moles